Well Played Board Game Cafe is an epicenter of gaming and fun in downtown Asheville. We're always hosting new tournaments, meetups, and awesome events each month.
For the latest happenings at Well Played, check out what's up next or browse our entire calendar of events below.
Featured Events At Well Played
Sunday, September 1st

Join us for a day of fun while you support the future of Asheville's youth.
On Sunday, September 1st we'll donate 10% of proceeds to a local school of your choice when you play at Well Played.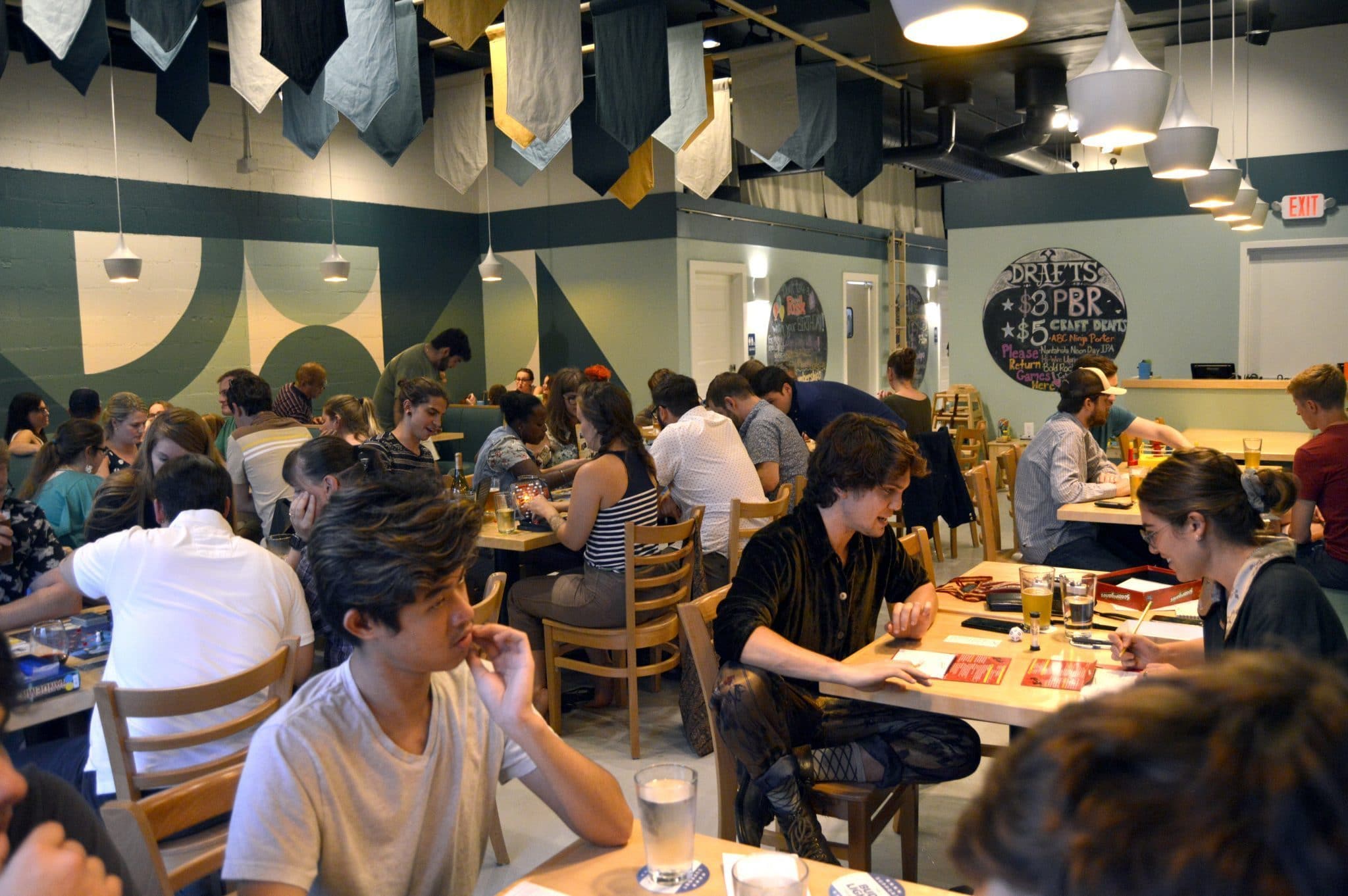 Sun
Mon
Tue
Wed
Thu
Fri
Sat

Milkshake Monday's

Join us every Monday and take $1.00 off milkshakes. All. Day. Long.

Playtest Night – Tech Gods: Battle of Many

6:00 pm

Playtest Night – Tech Gods: Battle of Many

@ Well Played Board Game Cafe

Aug 5 @ 6:00 pm – 9:00 pm

Join us Monday, 8/5 to playtest game designer Kevin Murphy's game, Tech Gods: Battle of Many. While currently undergoing the infancy of the R&D phase, your feedback will help with the development of the game! …

Meetup Monday!

Aug 5 @ 7:00 pm – 10:00 pm

Meetup Mondays Want to meet new friends, or find new competition? We've got you covered. ***Featuring 50% Off Gaming Fees for Participants***

Milkshake Monday's

Join us every Monday and take $1.00 off milkshakes. All. Day. Long.

Puzzled Pint

@ Well Played Board Game Cafe

Aug 13 @ 7:00 pm – 10:00 pm

Puzzled Pint is a casual, social puzzle solving event which happens on the second Tuesday of every month in multiple cities around the world. It's beginner friendly and non-competitive – hints are free and unlimited,…

Spiel des Jahres At Well Played

Spiel des Jahres At Well Played

The Spiel des Jahres ("Game of the Year" in German) is pretty much the board game equivalent to the Academy Awards. Created in 1978 with the stated purpose of rewarding excellence in game design and promotion of…

Milkshake Monday's

Join us every Monday and take $1.00 off milkshakes. All. Day. Long.

Settlers Of Catan Tournament

2:00 pm

Settlers Of Catan Tournament

@ Well Played Board Game Cafe

Aug 25 @ 2:00 pm – 7:00 pm

Free Settlers of Catan Tournament! Compete among 12 other players for awesome prizes in our upcoming Settlers of Catan Tournament! Registration is first-come, first-serve. Claim your spot while you can! Picture yourself in the era…

Milkshake Monday's

Join us every Monday and take $1.00 off milkshakes. All. Day. Long.

25¢ PBR Night

@ Well Played Board Game Cafe

Yes. You heard that right. What better beer to go beyond your board gaming experience than an ice cold PBR? 🍻 Paired perfectly with lots of menu options, such as The Mac Grilled Cheese.…