Well Played Board Game Cafe is an epicenter of gaming and fun in downtown Asheville. We're always hosting new tournaments, meetups, and awesome events each month.
For the latest happenings at Well Played, check out what's up next or browse our entire calendar of events below.
Featured Events At Well Played
 Wednesday, June 26th

Yes. You heard that right. Come to Well Played on Wednesday, June 26th and enjoy a pour (or two, or three...or four) of Pabst Blue Ribbon cans all day long for only a quarter each.
No game pass required.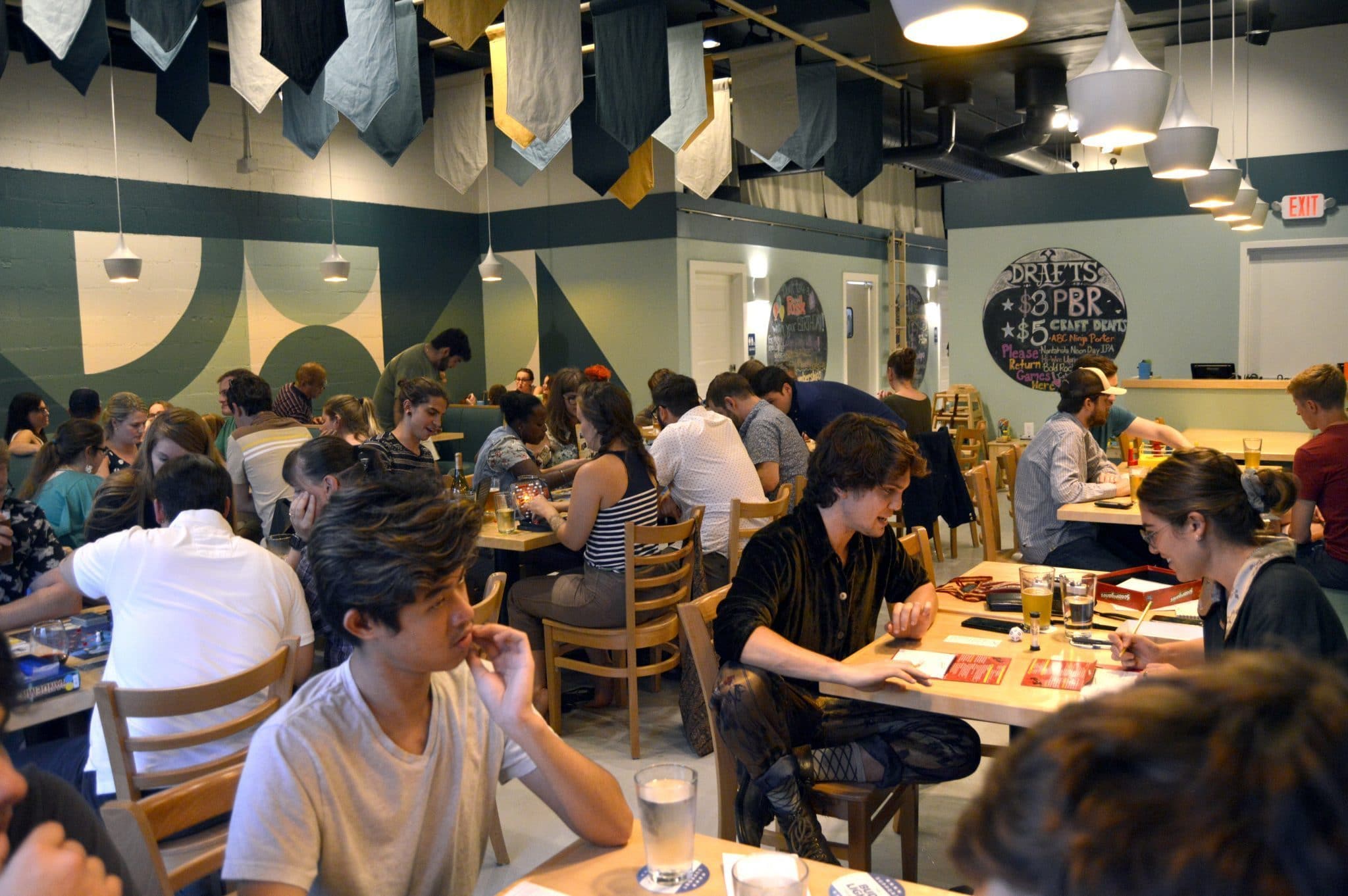 Sun
Mon
Tue
Wed
Thu
Fri
Sat

Meetup Monday!

Jun 3 @ 7:00 pm – 10:00 pm

Meetup Mondays Want to meet new friends, or find new competition? We've got you covered. ***Featuring 50% Off Gaming Fees for Participants***

Milkshake Monday's

Join us every Monday and take $1.00 off milkshakes. All. Day. Long.

Puzzled Pint

@ Well Played Board Game Cafe

Jun 11 @ 7:00 pm – 10:00 pm

Puzzled Pint is a casual, social puzzle solving event which happens on the second Tuesday of every month in multiple cities around the world. It's beginner friendly and non-competitive – hints are free and unlimited,…

Playtest The Best Board Game In NC

Playtest The Best Board Game In NC

@ Well Played Board Game Cafe

The Technology Student Association at Asheville High designed the best board game in North Carolina, but they need your help to compete at nationals! Help them playtest their game on June 12th, with a portion…

Playing for a Purpose: Supporting CRC for ED

6:00 pm

Playing for a Purpose: Supporting CRC for ED

Jun 14 @ 6:00 pm – 9:00 pm

  Playing for a Purpose: Supporting CRC for ED, will be held on Friday June 14th at Well Played! Come and have some fun while learning about our organization. From 6:00pm-8:00pm, Well Played will donate…

Father's Day At Well Played

Father's Day At Well Played

@ Well Played Board Game Cafe

Make sure you check all the boxes this year for Father's Day and bring dad to Well Played for a day full of fun!   👉 Dads play free 👈 👉 Beer specials all day…

Milkshake Monday's

Join us every Monday and take $1.00 off milkshakes. All. Day. Long.

STAT PROTOCOL

@ Well Played Board Game Cafe

Jun 19 @ 6:00 pm – 10:00 pm

Game Designer Tyler Thurman joins us to play-test "STAT PROTOCOL" on Wednesday, June 19th at 6 PM. "STAT PROTOCOL" is the card game where you're the doctor! About The Game: All players take on the…

Milkshake Monday's

Join us every Monday and take $1.00 off milkshakes. All. Day. Long.

25¢ PBR Night

@ Well Played Board Game Cafe

Yes. You heard that right. What better beer to go beyond your board gaming experience than an ice cold PBR? 🍻 Paired perfectly with lots of menu options, such as The Mac Grilled Cheese.…

Board Game Swap Meet

6:00 pm

Board Game Swap Meet

@ Well Played Board Game Cafe

Jun 27 @ 6:00 pm – 9:00 pm

Come and trade your old games for new (to you) ones! Have games that don't get played enough? Duplicate gifts from well-intentioned relatives? Just looking for something new? Bring 'em all and turn them into…