When:
September 27, 2022 @ 6:00 pm – 9:00 pm
2022-09-27T18:00:00-04:00
2022-09-27T21:00:00-04:00
Where:
Well Played Board Game Cafe
162 Coxe Ave
Asheville, NC 28801
USA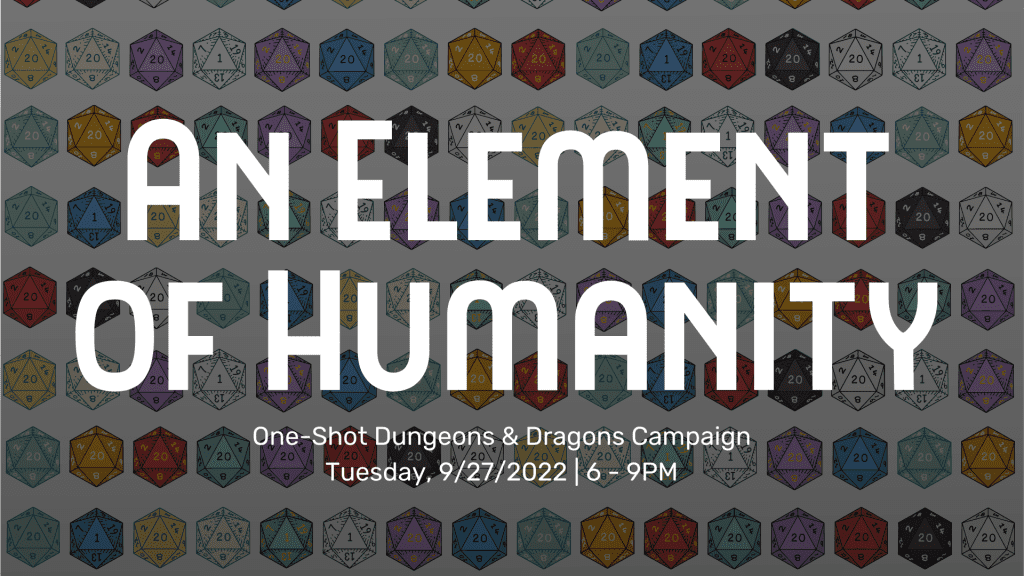 An Element of Humanity: A Campaign of Adventure, Mystery, and Suspense
You and your fellow players are hired to go on an epic quest! The path is dangerous. There are many enemies and deadly magic more powerful than ever. But if you succeed, not only will you be greatly rewarded, but you will also be famous throughout the whole land.
This is an action-packed mini-campaign where you will create memorable encounters in a fully developed world. Our Gamemasters will provide you with everything you need to run your game as well as any props that would make your D&D experience more fun (dice, battle grid, etc.)
→ A thrilling game that guarantees exciting adventure
→ Work together with other nerds in this group optimized for maximum party experience.
→ Walk around town and talk to NPCs
→ Monsters and loot + traps galore!
→ Fight and succeed against powerful beasts in combat! Or be eaten by them ¯_(ツ)_/¯
→ 15 Max Players (3 Groups of 5)
→ Reserve your seat by 9/20!
→ $10 ticket includes a seat at the table and a fountain drink with refills.
Please note: This is a rerun of the 8/23 single-shot campaign.