When:
November 2, 2023 @ 11:00 am – 1:00 pm
2023-11-02T11:00:00-04:00
2023-11-02T13:00:00-04:00
Where:
Well Played Board Game Cafe
162 Coxe Ave
Asheville, NC 28801
USA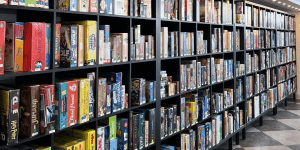 That's right, board games will make your kids smarter! When you play board games, you stimulate the areas of the brain responsible for memory formation and complex thought function (which is true for adults, too.) Games help develop cognitive skills, including decision-making, problem-solving, and logical analysis.. And the benefits continue on throughout a person's life. In older adults, playing games has been shown to lower the risk of developing Alzheimer's disease.
Then why not join us for our Homeschooler's Hangout? Every Thursday from 11am to 1pm our game passes will be only $3 per person. Our gamemasters will provide a new selection of games each week!
RSVP by sending an email to events@wellplayedasheville.com