Pediatric Cancer Awareness
When:
September 15, 2019 @ 1:00 pm – 4:00 pm
2019-09-15T13:00:00-04:00
2019-09-15T16:00:00-04:00
Where:
Well Played Board Game Cafe
58 Wall St
Asheville, NC 28801
USA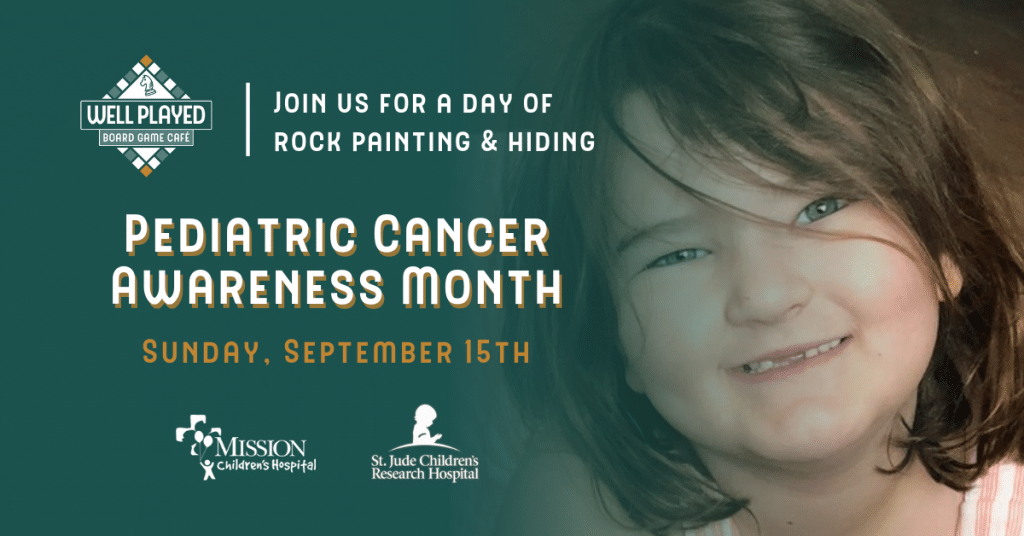 Well Played Board Game Café Celebrates Courageous Fight and Revolutionizing Treatment for Asheville Pediatric Brain Cancer Patient at St Jude Children's Research Hospital 
Well Played Owners Extend Public Invitation to Attend Pediatric Cancer Awareness Event to Spread Hope, Positivity, and Encouragement to Children Battling Pediatric Cancers.
ASHEVILLE, NC – [
September 3, 2019
] – Well Played Board Game Café is proud to announce a Pediatric Cancer Awareness event on Sunday, 9/15 in celebration of a courageous fight and a revolutionizing treatment for Pediatric Brain Cancer. The owners extend a public invitation to the Asheville community to join pediatric cancer fighter Cami Green to spread inspiration and encouragement by creating greeting cards and painting "kindness rocks".  
Beginning her journey last June, Cami Green (daughter of Well Played co-owner, Steve Green) was rushed to Mission Hospital after being found blue and unresponsive in her bedroom. Upon receiving initial MRI results and being transferred to multiple hospitals across the country, Cami was diagnosed with 5 high-grade glioma brain tumors. At this moment, Steve and his wife Kathrine had to face any parents' worst nightmare – Cami had a 0% chance of survival with only 3 to 6 months to live.  
Only seventy-two hours prior to a risky surgery at the University of Florida, St. Jude Children's Research Hospital heard about Cami and contacted the Greens to begin clinical trials using a new experimental drug. At the last minute, the Green's followed their hearts and took a leap of faith. Cami's response was a phenomenon, with Steve saying, "We went from five brain tumors to two in the first two months, and the other two tumors might not be tumors at all. We may have already had the miracle of miracles." Amongst the medical community, her treatment is seen as a breakthrough. "Her doctors say she is revolutionizing pediatric brain cancer for patients around the world…Cami is the only person in the world on this drug who hasn't had some other prior treatment for this condition." This has allowed doctors the benefit of seeing the true results of the drug without incorporation of other means of treatment. 
Well Played Board Game Café will be hosting a Pediatric Cancer Awareness event in celebration of Cami's incredible spirit and fight throughout this process. Extending a public invitation to the Asheville community on Sunday, September 15th between 1pm and 4pm, attendees will have the opportunity to meet Cami and support other children battling cancer. Participants are welcome to create greeting cards and paint "kindness rocks" to send messages of hope, positivity, and encouragement to pediatric cancer patients at St. Jude Children's Research Hospital as well as Mission Children's Hospital. All supplies will be provided and the first 100 people to participate will receive a special treat from Cami herself. Donations of the card game
UNO
  in addition to new and unopened
Legos
in support of "
Legos for Little Warriors
" will be accepted during the event. Steve said, " Donations of Legos for 'Legos for Little Warriors' is in honor of Cami's best friend and fellow clinical trial partner at St Jude, Brody Nelson. Brody recently passed and we can think of no better way to remember Cami's dear friend than to continue his incredible legacy of providing Legos to kids in children's hospitals."
About Well Played Board Game Café 
Well Played Board Game Café is an innovative, fun entertainment concept and restaurant located on Wall Street in Asheville, North Carolina featuring 600+ games, food, and drinks. Here, visitors can enjoy a selection of cafe eats, local beer and wine, amidst a wide range of board games in an upbeat atmosphere.
About St. Jude's Children's Hospital and "Kindness Rocks"
A leading children's hospital in Memphis, Tennessee, St. Jude treats the toughest childhood cancers and pediatric diseases. To help inspire children with hope, "kindness rock" painting has become a growing trend at St. Jude, where painted rocks with messages of positivity are hidden for children to discover.